Celebrating 10 years of operation, Frontier Family Practice in Fairfield is adding Preslie Fleming, a new family nurse practitioner, to the growing practice.
Fleming, a 2009 Augusta High School graduate, joined fellow FNPs and practice owners Valerie Anderson and Carmen Staigmiller in September.
"I'm loving spending time with my patients and being a part of the Fairfield practice," Fleming said. "Val and Carmen are amazing. I have learned so much from them already and look forward to the continuing camaraderie as I work more in the clinic."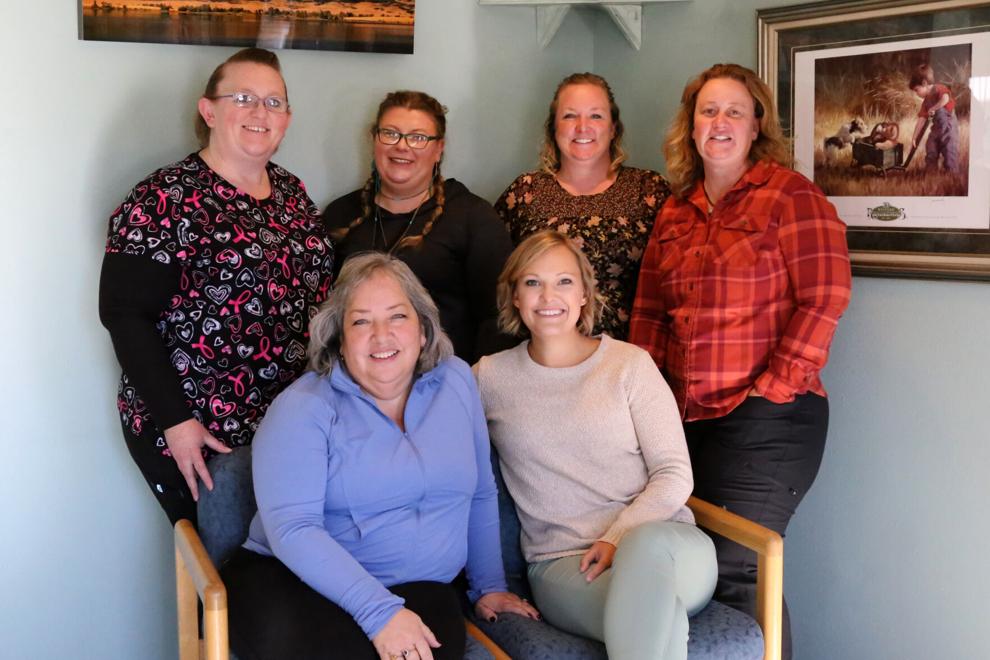 After earning an undergraduate degree from the University of Montana and a Bachelor's of Nursing from Montana State University-Northern, Fleming worked as a nurse at Benefis in Great Falls. While enjoying her chosen profession, Fleming determined she wanted to spend more time with her patients and get to know more about them and their concerns. This discovery led her to return to school and obtain her master's degree from the University of Phoenix to become a family nurse practitioner.
Working at the Fairfield clinic isn't completely new to Fleming, as she took many of her clinical rotations while obtaining her master's at Frontier Family Practice. "I like the family atmosphere with Val and Carmen, the rest of the staff and patients at the Fairfield Clinic," Fleming said.
Fleming selected the route of family nurse practitioner because she looks forward to caring for patients of all ages, from newborns to the elderly. She also understands the need for specialized care and feels that along with the knowledge base of Anderson and Staigmiller and developing good resources, they can help patients find the right care.
Fleming lives in the Sun River Valley with her husband, Reid who sells orthopedic implants, and their son Easton, who is in first grade at Greenfield Elemenary School. "It is also nice that the practice is just down the road from where I live, allowing me to be part of the communities of the patients I'm serving," Fleming said. "I hope to not just be a provider, but a community member that is a fellow parent, coach of kids sports, that we see each other at high school games or community events. She enjoys interacting in the communities and getting to know the individuals and families that come to the clinic.
When not working, Fleming enjoys spending time with her family. She is involved with church and just starting to coach T-ball and is involved in her son's activities. When she wants to relax, Fleming enjoys reading a good mystery.
The clinic is open Monday through Thursday from 8:30 a.m. to 4:30 p.m. and Friday from 8:30 a.m. to 1:30 p.m. The clinic takes a lunch break from 1:30 to 2:30 p.m. Monday through Thursday. Fleming is seeing patients Monday, Wednesday, Thursday and Friday. Anderson and Staigmiller see patients Monday through Friday with each taking one day a week off.
The three providers offer primary health care including well child exams, adult annual wellness exams, family planning, chronic disease management, specialist referrals, tobacco cessation counseling, nutrition and weight loss counseling, chronic wound management, school/sports and Montana Department of Transportation physicals, suturing of minor wounds, evaluating/splinting/referring orthopedic injuries and evaluating various infections. The clinic offers health fair annually.
In addition to the three providers, other staff working at the clinic are Kellie Rapp, office manager; Ashli Weekes, receptionist; and Terra Gregory, medical assistant.
The clinic owners commented it is hard to believe they have been in practice in Fairfield for 10 years. Having both been nurses at Benefis before returning to school to become family nurse practitioners, they chose to open the primary care clinic to provide easily accessible, high-quality healthcare for their community and the surrounding area.
"It has been a growing and thriving clinic since we started and in the last few years there has been an influx of patients throughout Covid," Anderson said. "Patients expressed their desire to go to a small clinic closer to home during that period of time and have continued through today."
"With the growth of our patient base, we were losing the ability to do same-day patient visits as our schedules were consistently full," Anderson said. "Adding Preslie to the practice has loosened up our schedules and allowed us to provide that service again."
Awarding the clinic "Best Country Doctor" for Distinctly Montana.com is one example of the public's reaction to the clinic.
Both women said Fairfield and the surrounding communities have been very supportive of them and the clinic. "We love our patients and the towns we serve," Anderson said. "We have become part of the community. We have helped some friends along the way and lost some close friends too."
Staigmiller said, "We are excited to bring Preslie on staff, which allows for the expansions we have experienced and for each of us to spend time with our families while providing quality care for the patients."
link