Many adjectives could be used to describe George Hite. Healthy, happy, energetic, motivated, honest and transformed are just a few.
But eight years ago, he probably wouldn't have used any of those words to describe his life. He had a good job, bought a house, was married to the love of his life and had two great children. From the outside, life looked good. But he was hiding a secret — an all-consuming addiction to opiates. It started when he got morphine from a friend to treat migraines.
"It snowballed from there. I was able to get fentanyl, and soon I was using all the time," says the 45-year-old Cadott, Wisconsin, resident. "I was spending more and more money to get it. I lied to many people and even myself. I told myself it was safe because they were pharmaceutical drugs."
Over five years, his addiction spiraled out of control. George lost his job, was behind on his bills and his marriage to his wife of 21 years, Sarah Hite, was in trouble. He knew it could not go on any longer.
"My addiction brought the walls tight around me. I stopped hanging out with friends and going to events," he recalls. "That wasn't me. I was always a happy person before. I had goals and was a better person than this."
With the support of Sarah, George enrolled in a 28-day inpatient addiction treatment program at Hazelden Betty Ford Foundation in 2015. He was able to kick the addiction and emerged a new man.
"I almost lost everything, and I'm so glad I got a second chance," he says.
Now, clean and sober, George focused on rebuilding relationships with the important people in his life and getting back to work. Life was looking up, but he noticed the scale was creeping in the same direction.
"I had replaced a pharmaceutical addiction with a food addiction," he recalls. "I knew I had a problem, but I lied to myself and thought, 'At least it's better than drugs.'"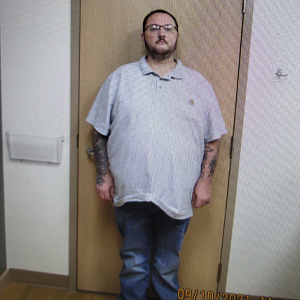 He binged on food, constantly snacking on empty-calorie foods and eating out multiple times per day. Within three years, George gained about 100 pounds. At 5 feet 10 inches tall, he weighed about 335 pounds and had a body mass index of nearly 48.
The extra weight was affecting George's physical and mental health. He had prediabetes, sleep apnea and low back pain. His migraines returned, and he had low energy. He was isolating himself again and staying home instead of seeing friends and family.
"Sarah loves me for me and never made me feel bad about it," says George. "But I didn't tell her about everything I was eating. When I realized I was keeping secrets again, I knew it was a problem."
It was time for George to make a change again. He enrolled in the Bariatric Surgery program at Mayo Clinic Health System in Eau Claire.
Bariatric surgery is a procedure that changes the structure of the digestive system by either limiting the size of the stomach, reducing the nutrients absorbed by the stomach, or both. It can be an effective tool to help people lose significant weight.
Wendy Payson, a registered nurse and bariatric surgery coordinator, stresses that bariatric surgery at Mayo Clinic Health System isn't just a surgical procedure.
"It's a multidisciplinary program, and the team focuses on supporting each patient's emotional, physical, nutritional and educational needs," she says. "Every prospective surgical patient must complete presurgical education and nutrition and lifestyle counseling. This comprehensive care improves patient outcomes and ensures long-term success."
During the seven-month program, George met with a surgeon, registered dietitians, counselors, exercise specialists and other medical experts to determine if he was prepared for the lifestyle changes necessary to ensure long-term weight loss success. The team evaluated whether surgery was right for him and helped him set up routines and support systems at home and work.
An essential part of the program is a 10-week Healthy Eating and Active Lifestyle with Thoughtful Habits (HEALTH) group, which creates an environment where members help each other achieve or maintain weight loss.
"I was really inspired by hearing or reading other people's stories about overcoming addiction or weight loss," says George. "I wanted to know peoples' mindset before or after surgery, what they did when they felt tempted, and how they prepared themselves to come home after surgery.
That's precisely the point, says Jackilyn Andrew, a clinical social worker in Psychiatry & Psychology and HEALTH group facilitator.
"When group members are willing to share openly, it is relatable and inspiring. Many people share that they find it helpful to be a part of the group for the support and interaction," says Andrew. "Even those that are shy and more reluctant to share, often report a lot of benefit from just listening and taking it all in."
At the end of the program, George was ready for surgery.
"Mr. Hite was a good candidate for bariatric surgery because he met the National Institutes of Health requirements of having a body mass index of 40 or greater with obesity-related medical conditions, such as sleep apnea," explains Maria Linnaus, M.D., general and bariatric surgeon. "Also, he expressed great motivation throughout the program to make changes to his lifestyle to ensure long-term success."
Dr. Linnaus explained the two surgical options to George: sleeve gastrectomy and Roux-en-Y gastric bypass.
"Mr. Hite had a history of gastroesophageal reflux, which can potentially be made worse with a sleeve gastrectomy. This is why we ultimately decided together on Roux-en-Y gastric bypass.",
Roux-en-Y is a minimally invasive laparoscopic procedure that creates a small pouch in the stomach and reconnects it directly to the small intestine. This causes patients to get full quicker and absorb fewer calories because food bypasses part of the small intestine.
In September 2021, George had a Roux-en-Y gastric bypass and remained in the hospital for one day. Most patients receive acetaminophen and nonsteroidal anti-inflammatory medications to control pain after surgery. George was leery of any postsurgical pain control medications due to his previous addiction, so the team worked with him to use other nonmedication methods of pain control, including aromatherapy and music therapy.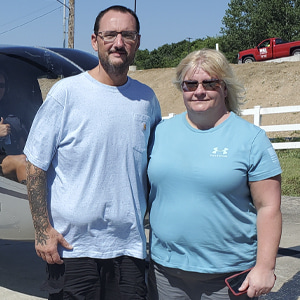 While not wholly pain-free at first, he could walk the same day and returned to light-duty work about one week later. Within a month, George gradually started exercising and resuming his regular activities. In addition to exercising on an elliptical and walking his dogs, George modified his diet.
"I'm very picky about what I eat and how much. I cut out carbonated beverages, caffeine, bread and processed sugar," he says. "I eat protein and vegetables first, then carbs and other calories if I'm still hungry."
Quickly he noticed his weight dropping. About 14 months after his surgery, George weighs 165 pounds, and his body mass index is 24. He no longer struggles with migraines, sleep apnea or low back pain. He recently added weight training to his exercise routine.
"I've never been muscular before," he says, laughing. "I'm actually getting veins in my biceps now."
His weight loss is typical of people who have completed the bariatric surgery program.
"Most patients can lose an estimated 60% to 70% excess weight for a gastric bypass and about 50% to 60% excess weight for a sleeve gastrectomy," explains Dr. Linnaus. "Mr. Hite is an example of how one can achieve even greater weight loss when following the program."
Following the program is precisely what George recommends.
"The program does work if you follow it. For me, it wasn't just a physical transformation. The surgery helped me emotionally and mentally, too. It changed me," he says. "I'm doing all that stuff that I was missing before. My confidence is through the roof now. One of the nurses said, 'You did all the work.' But that team gave me the tools to get the work done. It really does work."
Dr. Linnaus gives credit to George for his success.
"Our program provides the building blocks for patients to get on the right track, and our surgeries can help reset their physiology. But at the end of the day, he did the hard work to follow the program, and it has paid off greatly."
link