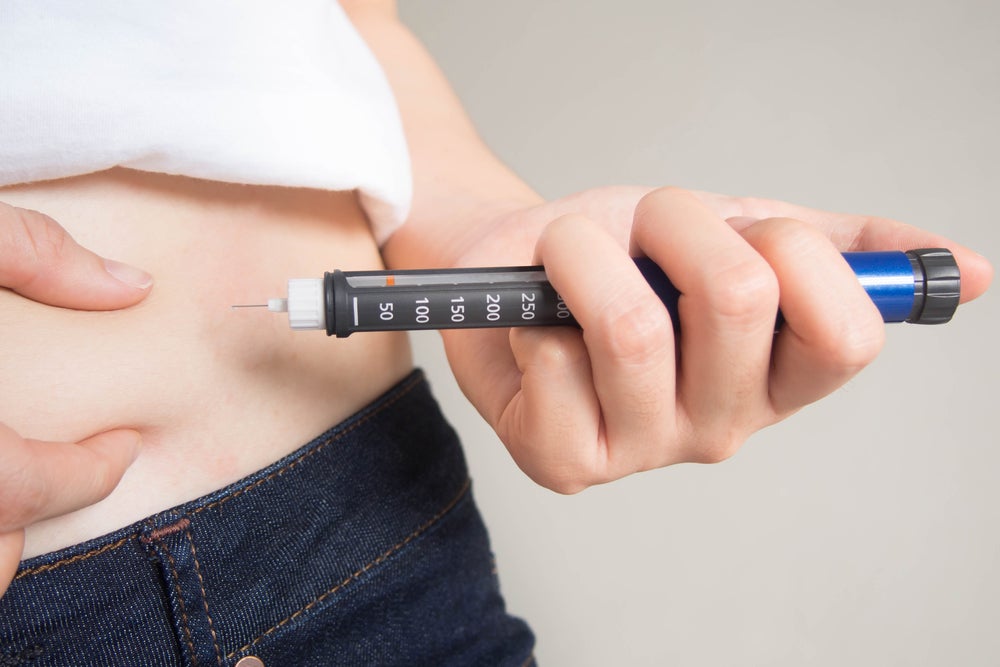 Close on the heels of a newly-minted label for Type II diabetes (T2D), Eli Lilly is now paving the way for tirzepatide to expand its reach as a weight-loss medication. The company's presentation at the American Diabetes Association's (ADA) 82nd Scientific Sessions put a spotlight on tirzepatide in not just T2D, but also highlighted its potential in obesity.
Following an approval in May, the company announced that the dual GIP/GLP-1 receptor agonist tirzepatide, marketed as Mounjaro for T2D, will soon become available in US pharmacies. Mounjaro got an FDA approval to improve blood sugar control in people with T2D on 13 May. Eligible T2D patients with commercial insurance will need to spend $25 per month to receive Mounjaro with a copay program, according to the company's ADA presentation.
According to GlobalData, tirzepatide sales are forecasted to reach $6.8 billion in 2028. GlobalData is the parent company of Pharmaceutical Technology.
At ADA, Lilly presented 2,539 participant-Phase III SURMOUNT-1 study data where tirzepatide demonstrated "statistically superior and clinically meaningful weight reduction" at three different doses compared to the control arm.
A Lilly spokesperson told Pharmaceutical Technology the company can't comment on the drug's future availability as an obesity medication. But, "Lilly recognizes the need for potential new treatment approaches for this chronic disease. As with any potential treatment, our goal is to make our medicines available and accessible to as many people as possible."
However, while tirzepatide showed efficacy as a once-a-week treatment for weight loss in overweight and obese patients in the SURMOUNT-1 study, the question remains how the drug will be reimbursed if it gets approved in this indication.
Reimbursement caveats and approval plans 
Insurance reimbursement for anti-obesity drugs remains a barrier for patients seeking such medication in the US. Weight management drugs are not a mandatory benefit in Medicaid, and Medicare excludes coverage of all anti-obesity drugs.
Even if a drug has been studied in other metabolic conditions, the FDA requires a cardiovascular outcomes trial (CVOT) data for regulatory approval as an obesity treatment.
Lilly expects to have a data readout for its T2D SURPASS-CVOT study in 2024 and is conducting a SUMMIT trial investigating tirzepatide in patients with heart failure with preserved ejection fraction (HFpEF) and obesity with estimated November 2023 end date.
The Lilly spokesperson said that the company had originally aligned with the FDA on needing the results of all four SURMOUNT global studies to support a [regulatory] submission for chronic weight management.  However, the SURMOUNT-1 trial data appear to have been significant enough for the company to accelerate its strategy.   
"We are looking forward to reviewing tirzepatide data with FDA and discussing a potentially expedited path forward, and we should have an updated timeline by the end of the year," the spokesperson says.
The company presentation indicated that tirzepatide did improve the prespecified cardiometabolic secondary endpoints in the SURMOUNT-1, and additional SURMOUNT-2,3,4 trials are underway with data expected to be available next year.
The weight loss market competitors
The FDA has approved six medications for long-term use to treat obesity and overweight. A body mass index (BMI) between 25 and 30 is defined as overweight, and above 30 is termed as obesity. Novo Nordisk's semaglutide, marketed as Wegovy when used to treat obesity and injectable Ozempic and oral Rybelsus for T2D, is one of the recent entrants in this space.
Other options include orlistat sold by H-2 Pharma under the name Xenical and over-the-counter Alli by GSK, Qsymia (phentermine-topiramate) by Vivus, Contrave (naltrexone-bupropion) by Currax Pharmaceuticals. Novo Nordisk's liraglutide is sold under the brand name Saxenda for obesity and Victoza for T2D, while Rhythm Pharmaceutical's Imcivree (setmelanotide) is limited to people with rare genetic disorders.
Highest dose with highest efficacy
In SURMOUNT-1 the biggest weight reduction was seen in the 15mg arm with participants losing 24kg (52lb) at 72 weeks. The average age of participants was 45 years and about two-thirds of them were women, says Dr Nadia Ahmad, senior medical director of the tirzepatide obesity program. The baseline BMI was 38, with all participants being overweight or obese, with hypertension, obstructive sleep apnea or cardiovascular disease.
Ahmad adds that 41% of the participants had prediabetes, a health condition when sugar levels are higher than normal but do not reach the baseline of T2D diagnosis. Those participants will continue the treatment for the next two years in an extension study, as per ClinicalTrials.gov, but at end of the 72-week trial, more than 95% of those people had reverted to normal blood sugar levels, Ahmad notes.

link