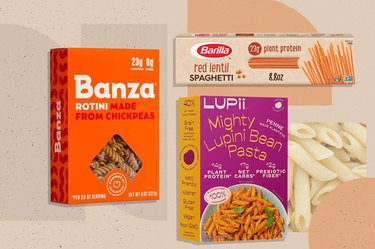 When we're trying to shed some pounds, all too often, our first move is to cut certain foods or groups of foods from our diet. Pasta — along with bread, rice and other carb-heavy foods — typically tops that list.
"People often think of pasta as a food that's just a carb with no nutritional benefits," shares Amy Gorin, RDN, an inclusive plant-based dietitian in Stamford, Connecticut, and owner of Plant Based with Amy. "But that couldn't be further from the truth. There are so many ways to incorporate pasta into a balanced diet and to choose kinds of pasta that have added nutritional perks."
It's white pasta that casts a shadow on all pasta. Because it's made from refined flour, it's inherently lower in two weight-loss-friendly nutrients: fiber and protein. High-fiber foods help you feel fuller longer than low-fiber foods, per the Mayo Clinic, and protein is satiating and helps maintain lean body mass (think: muscle), per an April 2015 paper in ‌The American Journal of Clinical Nutrition‌.
But there's actually a plethora of pasta options made from foods other than refined grains that offer a healthy dose of fiber and protein. "I love recommending pastas that are made with ingredients like beans or edamame so you get some extra protein and fiber in your meal," Gorin says.
With that, here are the best pastas for weight loss.
A cup of cooked chickpeas provides 15 grams of protein, 45 grams of carbs and 12 grams of fiber, per the USDA. So, when you make pasta with chickpea flour as the first ingredient, all of that nutritional goodness creates a healthy pasta option.
A November 2016 study in ‌Nutrients‌ found that people who regularly eat chickpea or hummus are 53 percent less likely to have obesity. They also have a lower BMI and waist circumference compared to those who forgo the legume. Again, this likely comes down to the hefty combo of protein and fiber offerings.
Try These Chickpea Pastas
‌Banza Chickpea Pasta Variety 6-pack ‌($17.16, Amazon)
‌Barilla Chickpea Rotini 10-pack‌ ($29.20, Amazon)
‌Explore Cuisine Organic Chickpea Fusilli 6-pack ‌($27.99, Amazon)
Like chickpeas, lentils are members of the pulse family, which are typically good sources of fiber and protein. But lentils really shine when it comes to their plant protein offerings, according to the Cleveland Clinic. A half-cup of lentils has 12 grams.
"I absolutely love pulse-based pastas and eat these often. They offer satiating protein and fiber and allow me to make a healthy meal in minutes," says Gorin. "I also use them to make pasta casseroles and vegan mac and cheese. Experiment with different ingredients and shapes so that you don't get bored!"
You'll typically find these kinds of pasta made from red or green lentils, each with its own unique flavor.
Try These Lentil Pastas
‌Tolerant Organic Green Lentil Penne 6-pack‌ ($26.10, Amazon)
‌Barilla Red Lentil Spaghetti & Penne Variety 6-pack‌ ($19.14, Amazon)
‌Ancient Harvest Green Lentil Spaghetti 6-pack‌ ($34.99, Amazon)
If you haven't heard of lupin beans (sometimes spelled lupine or lupini), don't fret. Of all the best pastas for weight loss, lupin bean is one of the newer products on the market. But their popularity is exploding: You'll also find lupin beans in bars, cookies and as a snack on their own.
The beans are commonly found in Italian cuisine, per the Academy of Nutrition and Dietetics. While they're not a significant source of fiber — especially compared to most other beans — they are chockfull of protein. A half-cup serving has 13 grams of the satiating nutrient (and only about 100 calories).
Try These Lupin Bean Pastas
‌Lupii Mighty Lupini Bean Pasta Variety 3-pack‌ ($19.95, Amazon)
‌Brami Superfood Pasta 6-pack‌ ($29.99, Amazon)
‌Lulupasta Protein Pasta‌ ($12.95, Amazon)
Shirataki noodles are made from the starchy konjac plant. They have a chewy texture and are fairly bland in taste. They're unique from most other pasta alternatives because they're exceptionally low in calories, and they have little to offer by way of protein, carbs and fat. But they are rich in fiber — specifically, a soluble fiber called glucomannan. This makes them an ideal choice for a pasta base, especially if you're trying to lose weight.
Gorin is a fan: "These are super fun if you're looking for a very low-calorie noodle. So maybe you have a main dish that's more caloric and you want your side noodle dish to be very light."
Another option is to make them the main entrée by zhuzhing them up a bit. Because they're essentially void of calories (and protein and fat), try balancing out the dish with lean protein, a tasty sauce and fiber-filled vegetables. "I like to make stir-fries with shirataki noodles — adding tofu and veggies. They also cook really quickly, which is a bonus," Gorin says.
Try These Shirataki Noodles
‌Liviva Organic Shirataki Spaghetti 6-pack‌ ($25.08, Amazon)
‌Miracle Shirataki Spaghetti Noodles 6-pack‌ ($25.95, Amazon)
‌It's Skinny Pasta Variety 6-Pack‌ ($22.99, Amazon)
Yes, hearts of palm is a vegetable, but these days you can find them in the pasta section of your grocery store featuring various shapes of noodles like linguini, angel hair and even lasagna. They have a sharp, almost tangy flavor compared to other pasta alternatives, but this can be muted by thoroug rinsing them and even soaking the noodles in unsweetened almond milk.
Like shirataki noodles, they're lower in calories, fat, carbs and protein. Their fiber-to-carb ratio is high, which means they won't do a number on your blood sugar. A half-cup portion has 7 grams of carbs and 3 grams of fiber, per the USDA.
Try These Hearts of Palm Pastas
Palmini Linguine 6-pack ($23.88, Amazon)
Natural Heaven Angel Hair Pasta 6‌–‌Pack ($31.90, Amazon)
What to Look for in Weight Loss-Friendly Pasta
1. High in Fiber and Protein
When perusing the pasta section at your grocery store, look for products that pack fiber and protein. Noodles that offer at least 5 grams of fiber or 8 grams of protein per 2-ounce serving are excellent choices.
There are also products available that might not meet the criteria above, but they're lower in calories (we've suggested a few). These are a good choice, too, because they can help you stay within your daily calorie limit.
What about white pasta, which has been demonized? Regular pasta still has a place on our plates — even if it doesn't meet the criteria above. It's the meal as a whole (think: adding veggies and lean proteins) and the portion of foods that can help or hurt your weight-loss efforts.
link