A growing number of states are threatening to take legal action against pharmacies that make or dispense unauthorized versions of the weight-loss medications Ozempic and Wegovy.
At least four states are already curbing the manufacturing of copycat versions over safety concerns and more could soon follow, experts say, as the two medications soar in popularity in the U.S.
Some compounding pharmacies in the U.S. have been offering what appears to be semaglutide — the active ingredient in both Ozempic and Wegovy — amid an ongoing shortage. 
Compounding pharmacies typically mix and alter drug ingredients to create medications tailored to specific patient needs.
They are allowed to make compounded versions of commercially available drugs under special circumstances, like a shortage, according to the Food and Drug Administration.
But state regulators that oversee pharmacies in Louisiana, Mississippi, North Carolina and West Virginia say they are aware that some compounding pharmacists are using a different form of semaglutide that is not approved by the FDA, raising safety concerns.
It's not clear if any consumer has been harmed by the compounded versions, but states are now threatening to crack down, each telling compounding pharmacies in recent weeks to stop making the unapproved versions of the drug or face legal and/or regulatory consequences.
"The Board is charged with protecting the public," the West Virginia Board of Pharmacy, which oversees pharmacies in the state, wrote in a statement published online on April 21. "Therefore, compounding semaglutide drug products in a way that fails to conform with governing law may lead to enforcement action."
Joe Fontenot, executive director of the Louisiana Board of Pharmacy, told NBC News that the warnings do not mean compounding semaglutide is banned.
The states communicated with compounding pharmacies "to cease compounding with unapproved forms of semaglutide," he said. "Compounding pharmacies may only compound drug products using bulk drug substances that comply with FDA guidelines."
But semaglutide is approved for use only in its "base form," the FDA said in a letter to states, which can only be acquired from Novo Nordisk, the patent holder of Ozempic and Wegovy.
That makes it nearly impossible for compounding pharmacies to make the drug because Novo Nordisk does not share the drug ingredients with compounding pharmacists, said Susan McCoy, executive director of the Mississippi Board of Pharmacy.
Are compounding pharmacies offering real semaglutide?
Regulators are particularly concerned with medications that are made using semaglutide sodium salt, a cheaper and modified version of the compound that is used for scientific research but not intended for use in humans, Fontenot said. Jeremy Kahn, a spokesperson for the FDA, said semaglutide salt is not an ingredient in any FDA approved drugs.
The compound can sometimes be found to purchase online as well as at spa and weight loss clinics. It is often cheaper and easier to access than the brand name Ozempic and Wegovy, which can cost around $1,000 or more for a month's supply.
"Salt versions of medications aren't always a bad thing," said Jim Yawn, the owner of Uptown Pharmacy, a compounding pharmacy in Madison, Mississippi. "A lot of medications are actually in the form of salt for stability issues."
But Yawn, whose pharmacy does not make compounded semaglutide, said that the salt version of semaglutide — like many other substances not approved for use in the U.S. — isn't regulated, monitored or tested by the FDA. 
That means patients may not always know what they are getting, he added.
He noted that he once saw a document from a manufacturer meant to verify that the substance was indeed semaglutide and met the FDA's standards for approval.
The document looked "like something that was purchased on the Alibaba marketplace that was slid out the back doors of a Chinese chemical plant," he said.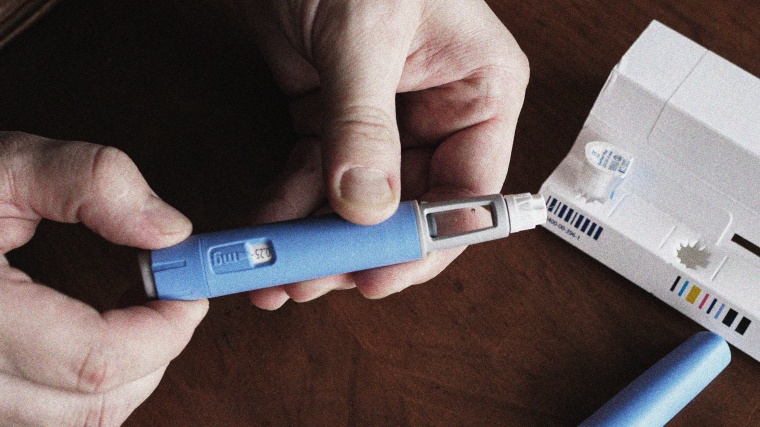 The warning from state regulators means compounding pharmacists making unauthorized versions of Ozempic and Wegovy could face a fine, be put on probation or lose their license to dispense medications, said Rick Niemi, the CEO of Valor Compounding Pharmacy, which is based in California but ships medications to states nationwide. 
"Revoking your licenses means you're literally out of business," said Niemi, whose pharmacy does not make compounded semaglutide.
He said state pharmacy regulators take the selling of unapproved medications very seriously.
"This is not the candy business. It's the drug business," he said.
So far, no compounding pharmacy has been fined or lost their license in Louisiana and Mississippi, according to state regulators.
Fontenot said Louisiana had not yet taken any legal or regulatory action against compounding pharmacies in the state. Neither has Mississippi, McCoy said.
The executive directors of the Boards of Pharmacy in North Carolina and in West Virginia did not immediately respond to a request for comment. 
Al Carter, executive director of the National Association of Boards of Pharmacy, a nonprofit that represents state pharmacy regulators, said that it is not aware of any other states taking similar action.
"However, we do know that most states are investigating the compounding of this product outside of the federal guidelines for drugs listed on the FDA shortage list," he said.
Allison Schneider, a spokesperson for Novo Nordisk, the manufacturer of Ozempic and Wegovy, said in a statement that the company is aware of several compounding pharmacies claiming to offer compounded semaglutide and is "taking action against these entities," though she did not provide further details.
"We will not tolerate the unauthorized and inappropriate usage of our brand trademarks by third parties," she said. 

link